From the purpose of the design, production, through to delivery to your door (and beyond – its also a circular product!) this gorgeous collection has been designed with the wellbeing of you, your family and our planet, at its heart. Design for good.
You can now take home and own your very own illustration of Kit, the black and white dog! Available on sustainable designer tote bags and soft cotton tees. Plus, every purchase also goes on to help to restore our amazing planet by supporting the work of an amazing charity!
Add a little bit of sunshine to all your adventures
Discover your favourite design today at becks-neale.teemill.com
Prices ranges from £12 to £19, with £1.25 from every purchase from this gorgeous Kit the dog collection this year will be donated to The Bumblebee Conservation Trust via Work for Good.
"Your designs are absolutely adorable and we are so grateful that you are protecting our threatened bumblebee populations by donating a portion of proceeds from sales to the Trust. Thank you for being part of the solution that is helping to create and restore bumblebee habitats and raise awareness the length and breadth of the UK." 
– Tessa Brooks, Senior Fundraising Officer, Bumblebee Conservation Trust
Find out more about how these gorgeous cotton totes and tees are made: the sustainable journey
Design for good: restoring our planet and wellbeing
I first illustrated Kit the dog during lockdown 2020 – with the purpose of inspiring wellbeing and hope: read more about its wellbeing origins
The illustrations naturally evolved to inspire thoughts and actions for the wellbeing of people and our planet throughout the changing seasons, bringing a smile to social media feeds. I love that posts have been described as 'inspiring', 'beautiful' and 'deep' by readers.
This year I've pledged to donate towards saving the bees: they are vital to our survival and wellbeing.
'One third of the world's food production is dependent on pollinators, they pollinate our crops and wildflowers'. (Source: Our world in data)
I'm also passionate about the beautiful environment bees thrive in – wildflower meadows.
Being in nature and watching wildlife is beneficial for our wellbeing.
It reconnects us.
It inspires us.
I grew up on an old family farm and loved spending time in the meadow, seeing the mass of buttercups and wild flowers that grew there in the summer.
Frighteningly, '97% of wildflower meadows have been lost since World War 2' (Source: Outco)
However, there is still hope, we can give bees a helping hand and make space for nature.
How you can help make our world a better place today
The Bumblebee Conservation Trust are working on a range of projects throughout the UK to save our bees, including creating habitats, land management advice, training and education, scientific research and data collection.
There are many actions you can take to help save our pollinators and planet, including: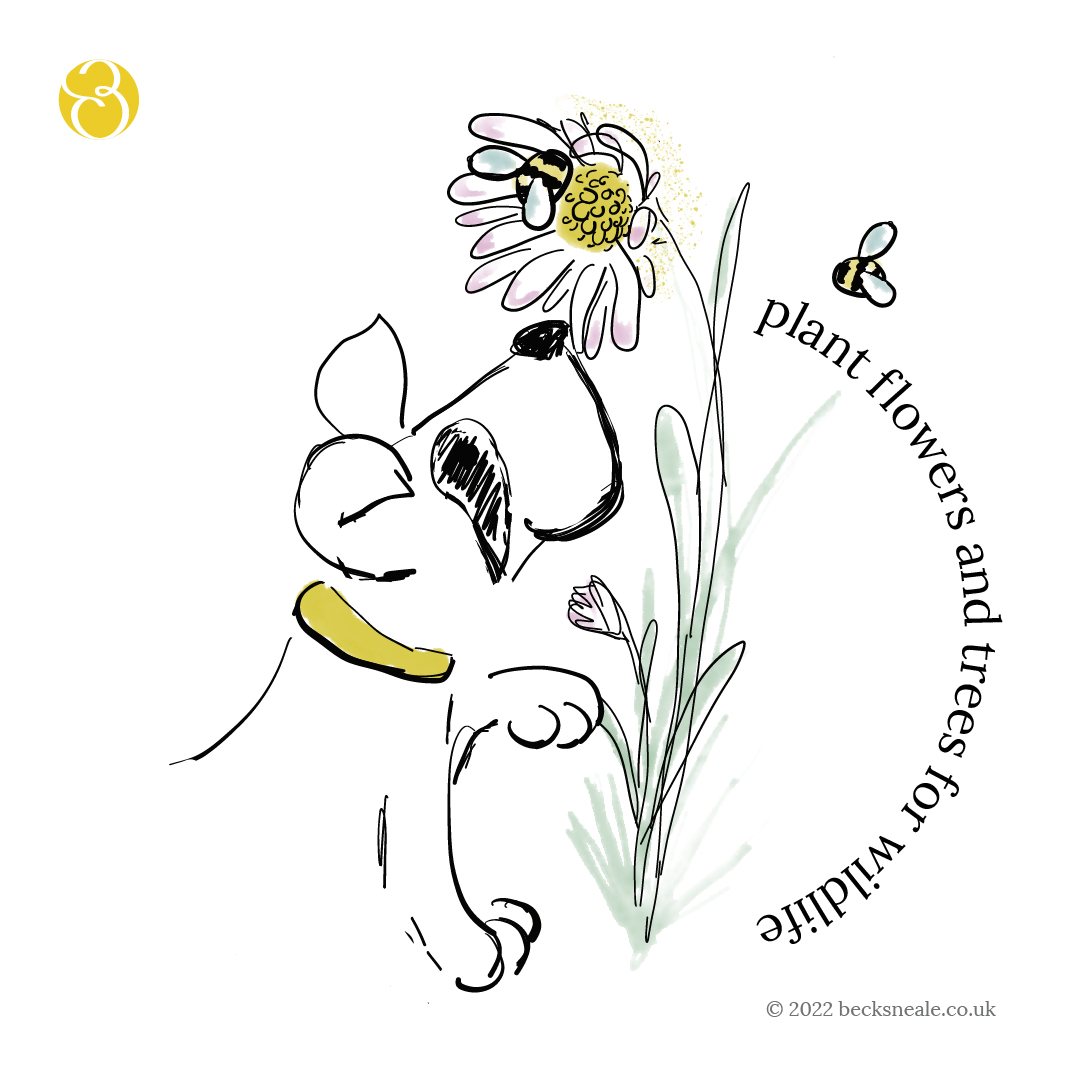 growing more flowers, shrubs and seeds
leaving a wild patch of long grass and wild flowers
creating hedges
leaving sources of water to create a welcoming
shopping and gifting sustainably
buy 'made for life' items
like, share and comment on planet and wildlife wellbeing posts to help inspire others to take action
Buy purchasing one of these illustrated Kit the dog tote bags or tees today you are helping to save the bees and making a difference to our planet and wellbeing – thank you!