Brand refresh
In 2018 I took the decision to re-design my website and in the process refresh my brand identity. Whilst the website I had was okay in itself, it wasn't performing how I wanted it to and it felt very limited. Rather than 'do-it-myself' with a new WordPress theme and tinkering with the templates, this time I wanted to get specialist support to handle the performance and the technical aspects. This meant that I could focus entirely on implementing the brand styling and refresh through every last detail.
So I took my own advice and went back to my story and values to make sure that everything I was doing and planning was aligned and filtering out any ideas that were no longer a fit. This wasn't an easy task, taking a lot of self reflection and courage to make the changes needed – including rebranding under my own name. It was time for a new chapter of my own brand adventure.
The right groundwork
Starting with the right groundwork involved going back to the drawing board to re-gain clarity on my message, my ideal client needs and my 'why'.
It's all too easy for the reasons and enthusiasm that you set out with when you started your business to get lost amongst all the tasks you need to do for the running of your business.
Core values:
authenticity
empathy and understanding; listening and really seeing

integrity; noticing the little details, uniqueness, beauty

originality; creating bespoke artwork (no 'off-the-shelf' artwork here, but pure creativity inspired by your story)
inspire
brand vision to help and inspire my clients to showcase their best

to encourage others to use their innate talents and skills; to showcase what makes my clients unique, what they are passionate about

creating and instilling confidence within my clients; empowering my clients with the brand assets and guidelines they need to create a consistent identity that sets them apart for what they do brilliantly
fulfilment
meaningful designs that create a feeling and emotion; brands that 'feel good and feel right'

wellbeing & purpose; because when you do what you love you feel good, when you feel good you perform your best, and when you perform your best you help and inspire others

wisdom and wonder; the transformational effects of aligning my clients brand with their values and authentic entity, creating a brand they love and seeing their confidence soar.
Messaging
This helped lead to the creation of my unique selling propositions / points (USP):
'Developing your brand to create confidence, originality and loyalty'
'Achieving a brand you love, by distilling your story'
Which in addition works seamlessly with my original tagline: 'Design to tell your story'
These phrases took a few rewrites over the course of time to really drill them down to their simplest, purest form. Especially as I'm naturally a wordy wizard loving the descriptive quality words can add to create feeling. (My husband knows me better than anyone else so he's been an amazing sounding board throughout the process too). It's worth the time and effort to find your core phrases that 'feel right' to you – phrases that you can use within your 60 second / elevator pitches and introductions to intrigue others to find out more.
"Simplicity is about subtracting the obvious and adding the meaningful" John Maeda
Brand vision
After the ground work I needed to convey in a tangible form how I wanted my website to look and feel – my virtual destination. This involved creating a brand style inspiration board along with mood boards to capture the experience I'd like to provide my clients with; a welcoming, safe space, that feels comfortable, down to earth, and inspiring. A place of entrustment; where dreams and ideas feel supported, finding clarity of direction and excitement for the adventure ahead. As a personal brand it was also important that the look and feel reflected my personality and values. Helping potential clients gauge if we're a good fit.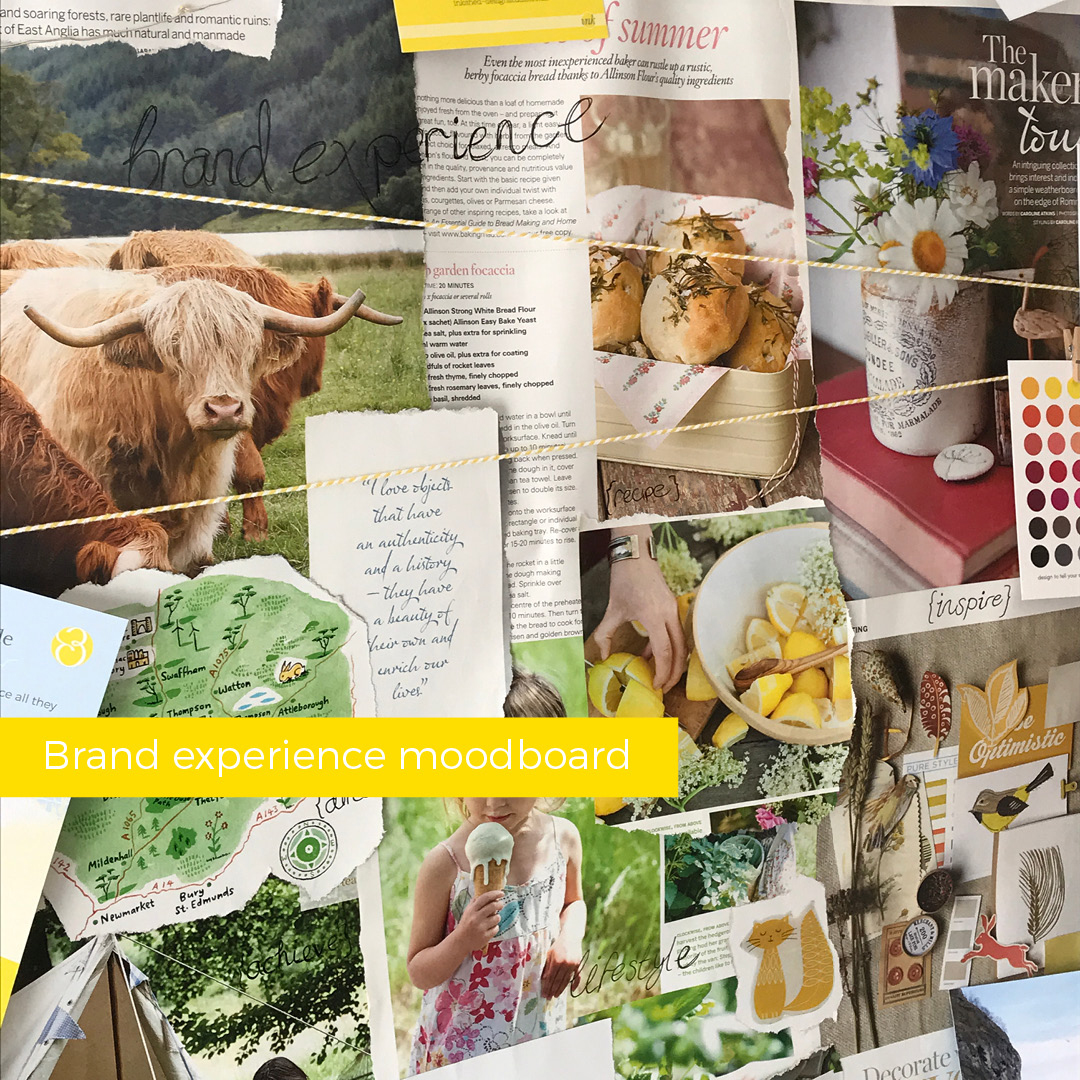 Brand Styling
Colour Palette
The mood boards were then filtered down to create my new refreshed brand colour palette – which is also coastal inspired (one of my 'happy places'), with buttercup yellow, clotted cream, seagrass green and sky blue teamed with grey tones. 
Typography
Teaming a beautiful title serif typeface with a clean, simple, sans serif typeface for sub titles and body text to create a lovely sense of tradition with a contemporary twist. This feel is extended with the two character fonts selected, one for its slight nostalgic typewriter feel and the other a script font for its fresh, cheerful characteristics, used for quotes and creative styling.
Illustrations and icons
To enhance the feel each graphical element needed to be refreshing, cheerful, inviting. The timeless style created is reminiscent of screen printing and paper cut artwork, beautifully constructed. For me the artworks are all about understanding, nurturing and inspiring your brand adventure. To encourage you to create a 'destination'- the incredible brand experience you aspire to provide.
Page layout / tone
White space, clean, fresh, welcoming, friendly, informative, supportive.
Structure & function
Just as important as the visual look and feel of the design, is how the design functions. How it leads you to where you want to go. For example, making it easy for you to instantly access more information. (Especially if, like me, you're a bit of a details and information person and you'd like to spend a bit of time exploring). Or if you're excited to develop your brand and are ready to take the next steps you can contact me directly to arrange a consultation at time that suits you.
From buttons, links, illustrations, graphical icons and copy…
….all designed and written as an extension of my brand story to help inspire yours.
Brand Guidelines
Combining all of these details into one document – a brand style guide, was a vital tool, conveying the look, feel and style of my brand for my web developer. Therefore Harry could see exactly what I wanted to achieve. It also provided a shared blueprint from which we could use to discuss and aid any decision making for behavioural and functionality aspects. 
"As a brand consultant, unsurprisingly, Becks was a tremendously organised client in her own right. She had over a dozen beautifully crafted blog articles ready to go. Four complementary typefaces were chosen and Becks had already made sure they were available as Google fonts. For the colour palette all we had to do was lift her colours from the documentation and drop them into theme files. Design assets like images all arrived on time and perfectly sized. Needless to say, this was an unusual project for us, and very satisfying to work on". Harry Andrews W4D
The results? Take a look around the site and let me know what you think of the new brand styling and refresh. 🙂 
Transform your brand into more than just a logo.