A campaign to help the community during lockdown
Featuring a collection of illustrations depicting 12 top tips for wellbeing
The illustrations were shared over 12 days on social media. The aim was to help brighten people's day, inspiring them with activities and ideas of positive things we can still do under the restrictions of lockdown.
Bright, cheerful colours teamed with pen and ink style quirky illustrations to bring the character 'Kit' the dog to life. A welcome ray of sunshine, pause (or maybe that should be 'paws' 😉 ) and relief to people's social media feed:
"I am loving this series …keep inspiring us" A.R | Leadership Coach
"I love the illustrations so much!" R.L | Social Media Specialist
A brand design that gave an element of breathing space and rest, cutting through the "infobesity" – the increasing overload and overwhelm of information, updates, facts and figures all fighting for our attention on a daily basis.
Here's the full brand design collection: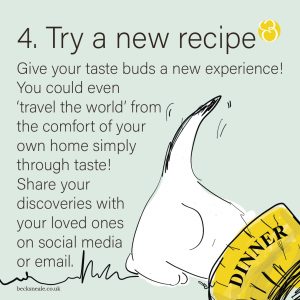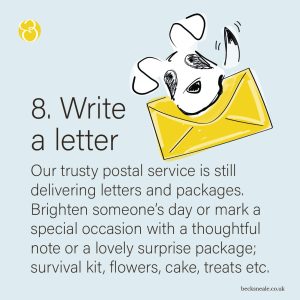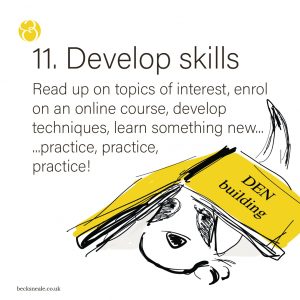 Feeling inspired?
If you would like to develop an illustrative house style or a collection of illustrations for your next charity brand design campaign and fundraising events to help inspire action and build relationships let's chat through ideas and create something bespoke to your brand!
It could be a seasonal collection or even developing your own character. Having a regular refresh, like with creating seasonal campaigns, keeps your cause fresh and relevant in the minds of the public. It also keeps your supporters and advocates feeling inspired. Awaiting with excited anticipation to seeing the 'next chapter' of your story. #nevermoreneeded
Don't forget the power of illustration
Due to the very nature and detailed process of designing, illustrations are created to design brief, bespoke to your campaign. Giving you control of the messaging, personality and emotion the image communicates. They are unique and stand out. Catching attention by breaking through the vast amounts of information overwhelming our social media feeds. Your illustrations are created to become a part of and recognisable as your brand. Building awareness for your cause. These characteristics give illustrations a unique distinction and powerful impact over photography.
Contact me today to chat through your next campaign