A huge highlight for me this year was working on the flagship fundraising appeal: Christian Aid Week 2022.
It was a privilege to be asked by Christian Aid to consult and lead the design aspect of all the resources, for print and digital, for their key fundraising campaign.
I worked alongside their amazing creative team, both internally and freelance, working closely with the senior creative editorial advisor to manage and ensure the copy and the design worked seamlessly together across the entire campaign. This also included reviewing content commissioned to freelancers and agencies for DRTV ads and social media, to create powerful, high quality and on brand communications.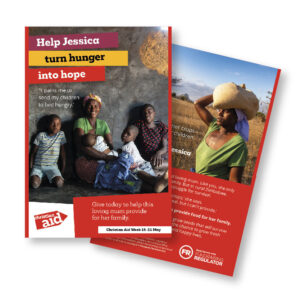 The core resources that set the scene and feel for the entire campaign are the posters and the giving envelopes.
Following on from the commissioned story gathering content, initial concepts were tested and evaluated by the team and stakeholders.
From the results I worked closely with the Christian Aid team to develop the final concept which needed to combine a couple of the approaches into one coherent story for the campaign: 'Turning hunger into hope'.
"Becks worked with our team as a design consultant. It was a pleasure working with her from start to finish. She is incredibly organised, driven, professional, and created beautiful designs to deliver our objectives. She made a strong contribution to our house style brand guidelines, created stunning designs for our flagship fundraising appeal, and also provided strategic brand oversight of work produced by agencies and freelancers. If you're looking for a talented designer and a lovely person to work with, I'd highly recommend Becks for your next creative project."

Rachel Addis, Senior Creative Copywriter, Christian Aid
A selection of the flagship fundraising appeal resource design

When the unthinkable happens
Emergency appeal resource design
Just as the Christian Aid Week fundraising appeal was soft launching, the world received the devastating news about the invasion in Ukraine.
Christian Aid joined the response in a heartbeat to help raise funds for vital emergency aid as part of the DEC Ukraine Humanitarian Appeal.
Whilst having two major campaigns running at the same time is far from the norm, Christian Aid's role is to actively respond to injustice and to be there when people are in need.
The message of 'hope' within the Christian Aid Week campaign remained poignant, and a bridge between these important appeals was carefully crafted, compassionately raising awareness of the immediate needs as well as the immense repercussions, deepening impacts and needs around the world.
The initial target for the flagship campaign was to raise £5m, however, with both vital campaigns running at the same time the amounts raised so far look to be a pretty even split between the two appeals, raising around £6m in total. Astounding generosity at a time of continued uncertainty and increasing costs of living. A huge thank you.
As part of the response to the Ukraine emergency appeal, I worked alongside Rachel, Christian Aid's senior editorial advisor to create a prayer card to update and add to an existing reflective resource. As well as creating prayer placards and digital banners that were projected on to Westminster Abbey and landmark buildings as a focus for prayer and visual sign of united support – truly humbling to see.
'Create a world where everyone can live a full life, free from poverty'
This is Christian Aid's vision. All their work, ambition and approach, actively embodies their core brand values: dignity, equality, justice, love.
Find out more and support Christian Aid's transformational work around the world to end poverty and to be there when disaster strikes, please visit Christian Aid: Christian Aid Week / Ukraine Humanitarian Appeal