The challenge:
Rebrand to develop and establish Chris' brand positioning within the corporate market
Brands continually evolve to support changes and new directions. For Chris Lubbe, the next chapter was not only about stepping out in his own identity, but also about positioning him within the corporate sector. The rebrand needed to emanate the wealth of heritage and experiences that has made Chris the man he is today. As well as convey the amazing inspirational message he shares.
Nelson Mandela was a huge influence and part of Chris's story. (If you've not had the chance to listen to Chris speak I would highly recommend looking out for his next event!). When Mandela retired he encouraged his former body guard, Chris to share his own story wherever he went in the world. A promise Chris has since pursued and continues to inspire many audiences with.
His existing identity was heavily anchored to Nelson Mandela with the iconic Mandela pose. His new identity needed to inspire hope, courage and passion, to bring Chris' story and warm personality to wider audiences.
The solution
The new identity drew upon Chris' incredible and harrowing experiences, distilling in every design element an aspect and value held within his story.


The concept of the tiger, formed a key visual metaphor to connect many of the ideas and heritage into a unified solution, whilst giving a subtle reference to 'Mandela a tiger of our time'. Simplifying the icon concept into four design elements:
the eye; a passion burning bright, the Zulu greeting 'Sawubona' meaning 'I see you', focus on the individual

the three individual stripes; denoting change from the division of apartheid now flowing and growing in the same direction with one focus

the blue eye and centre stripe together, form an image of a person with an outstretched arm; highlighting the focus on the individuals talents and inner potential

the orange stripe; flame like glow of passion held within each individual, inspiring hope, courage and change
This was then further accented by the graphic styling of the name, echoing the core strength, stripes and Zulu greeting.
The positive impact
"I'm absolutely blown away by the final result" Chris Lubbe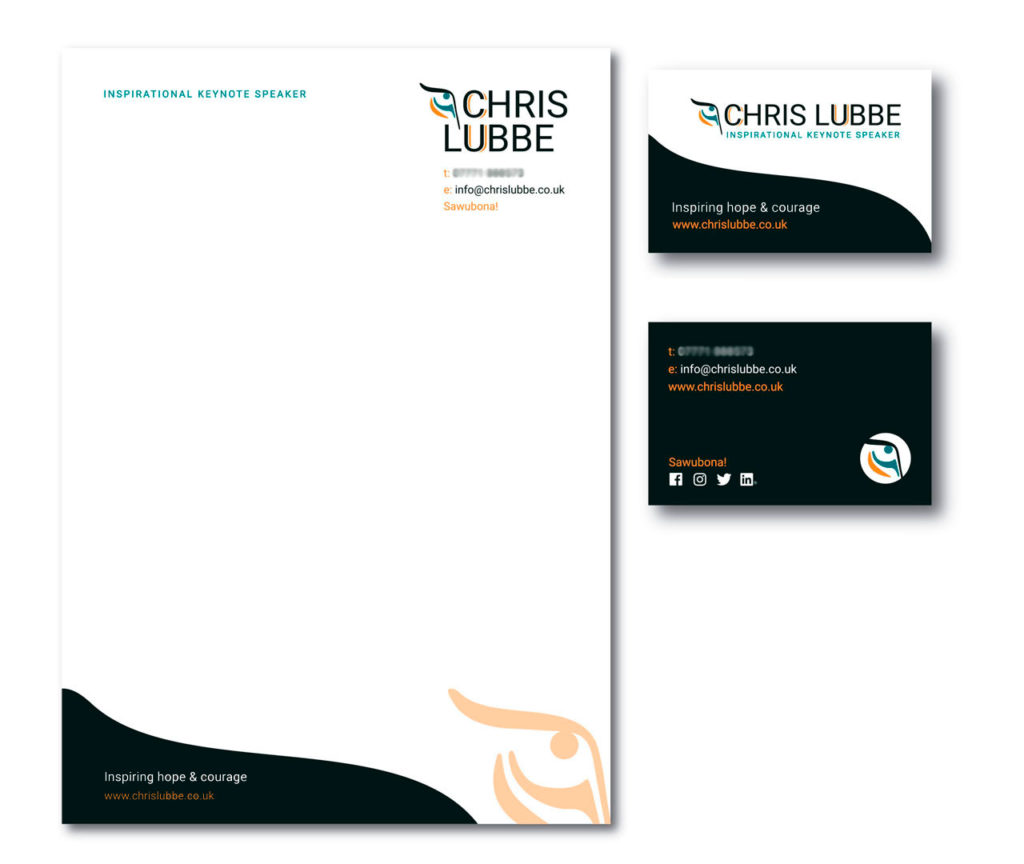 It is important that my client's personally feel connected and aligned with their brand identity, and that the results exceed their expectations. This sense of excitement and confidence is the immediate wave of the positive impact his brand has.
Together with his new brand guidelines and logo design assets Chris has been able to consistently update his brand identity across his social media platforms and implement the changes with his web developer to refresh his website.
Looking forward to revisiting down the line and reporting more results from our long term objectives.
With the first stage of Chris' rebrand complete and implemented, our next stage for his brand development is honing the brand messaging, navigation and styling.