The Problem
Fiona had a wonderful product idea that could really add to her brand experience, but needed innovative ideas with how to make it tangible. "I wanted it to be something that recipients would be proud to have on display in their home, make them feel part of my grove community, and also have a practical use."
"I was really apprehensive about being able to finish the project in the timeframe I had in mind but Becks was great about saying how long things would take, and sticking to that schedule."
The Solution
A four page folded template design, print ready artwork, with areas kept for personalisation of the gift certificate – helping Fiona add a real personal touch. We included a kraft effect within the design to position it seamlessly in alignment with the packaging of their Olive Tea. Fiona is a creative being too, and loved the personalisation options. We discussed and developed the options to work beautifully with the finishing touches, allowing Fiona to really go to town on the personalisation and add the surprises inside ready to delight the recipient!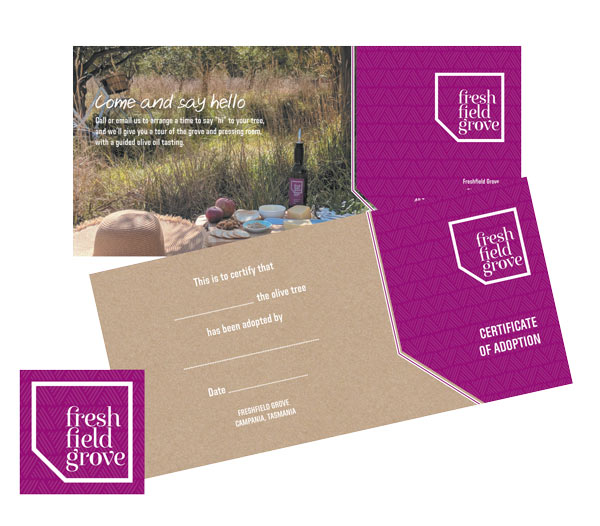 The Process
"Really fast turnaround while keeping to the brief and introducing additional ideas that help make my product stand out from the crowd. Becks was receptive to discussion as the design developed, so it felt like an interactive process."
The Result
"A product that I'm excited to share".
And Beyond
"Do it! Becks was able to take elements of my existing design and create a new product I love." Fiona M – Tasmania